Last weekend I was fortunate enough to volunteer at Citizen University's annual national conference at The Seattle Center (www.citizenuniversity.us) (#CitizenUCon16).  First off, let me just say, "WOW!"  What a refreshing experience!  In this age of dumbed down outrage media and carnival barking Republican Presidential politics, to suddenly find yourself speaking with smart, diverse and caring people working to improve civic engagement is truly a soul renewing experience.   I met many interesting attendees from all walks of life and the insights they offered were many and meaningful.
The conference was hosted by Eric Liu, founder & CEO of Citizen University and executive director of the Aspen Institute Citizenship and American Identity Program.  Eric is an author of several worthwhile books and has served as a White House speechwriter and policy adviser for President Bill Clinton.  He's also a regular columnist for CNN.com and a correspondent for TheAtlantic.com.  In other words, a very smart, but unfortunately for me, very busy guy! 
I had hoped to speak to Eric about a project I'm working on that could massively impact civic engagement across America.  To his credit he honestly told me that would be difficult at the present time (I do so appreciate an "honest no"!) but he did put me in contact with Ben at Citizen U offices so I remain optimistic that we will connect soon!
This year's conference theme was "Who Is Us?  Race, Citizenship, and American Now".  In their words, "In this age of inequality and demographic flux, how do we define a sense of national identity and cohesion?"  Several hundred attendees from across America listened as conference speakers, panel discussions and break out sessions tried to answer the question by focusing on "race, identity, and what it means to be American now". 
The Bottom Line – While helping out and participating in the conference I could not help but appreciate that these people, and the event itself, were really NICE!  And we could use bucket loads more nice in the world these days.  Yet by the end, I had that "I'm still hungry" feeling and the answer to conference's defining question of "Who Is Us" felt incomplete.  The NICE was clearly and not nearly enough.  I would suggest that notionally, there are not enough buckets of nice, in Seattle or the nation, to seriously impact the current challenges of civic engagement in America and the resulting outcomes – mainly a struggling society and misaligned government.  Something much more and different is needed.
Full Disclosure – this misalignment is what my project squarely tackles, so I am highly motivated to help…let's talk Eric!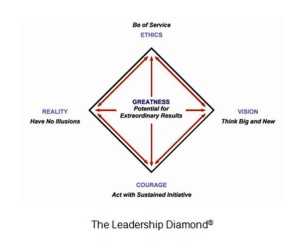 The Bigger Picture – From a Leadership Diamond® viewpoint, the event was extremely strong on Ethics & Reality.  The focus on identity, the diversity of attendees & topics, the respectful dialogue and feeling of community were truly endearing.  However noticeably missing from the mix were the leadership facets of Vision & Courage.  And given America's cultural devotion to Vision & Courage (we are after all, THE Vision – Courage nation), it is a non-starter to do anything these days without that orientation being front and center.  In order to progress any issue in this age of distraction & "too busy to talk", we must paint a compelling picture for the future and step toward that future with strong consistent action.  Otherwise many people, at least ones like me, will leave feeling nice but still scratching their head and wondering how this really moves the needle.
There are many ways to address this challenge for the conference.  I won't offer specific ideas here but will leave that to the smart folks at Citizen University.  However I did feel compelled to make the bigger picture leadership points and ideally inspire a real connection that could seriously impact civic engagement in America.  Hopefully the right folks are reading.
In closing, one suggestion I will make for the future was inspired by the beautiful American flag that framed the stage.  Its woven tapestry suggested the idea of stitching together an answer to the "Who Is Us" question.  Perhaps an attendee participation activity during the day with, results given at the end, could provide a unifying vision and suggest steps to move all of these wonderful people forward.  Because without a doubt, their mission is important for the future of our nation and the world!